pjw3dm3_tourney - Jumping to Contusions (Tourney Version)
[Download] [Text File]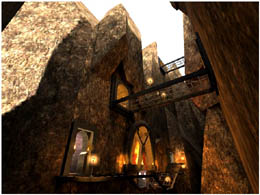 CREATED: 1/1/02
DESCRIPTION: This map is basically just a smaller version of its big brother for those who prefer 1-on-1 play or smaller FFA matches. This version of the map wouldn't have happened without a nudge from Tigger-oN, so some thanks should go to him. The funny part is that the first map started off as a tourney map. Go figure.
I'll repeat the thanks from the other page: Evil Lair, who provided most of the custom textures, although Kat, Karloff, and Jezebel deserve credit as well. The teleporter model is from the brain of stecki, the lamp model comes via Maverik, and the flag-holder is courtesy of KabaL. The skybox is another example of the outstanding work of The Mighty Pete, and is available at The Wadfather. Finally, thanks to Death2UAll for the great wind sound. More of his custom sounds can be found here, graciously hosted by GONNAKILLYA.
WEAPON/ITEM LOAD: Two Combat Armor. One each of Rocket Launcher, Plasma Gun, Grenade Launcher, Railgun, Shotgun, Body Armor, Megahealth. Ammo for each weapon, and various health and shards scattered around.