pjw4tourney1 - Sunshine
[Download] [Text File]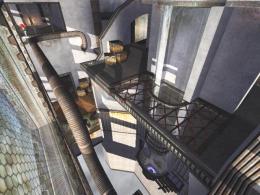 CREATED: 7/4/07
DESCRIPTION: This map had a bit of a rough and protracted development process that spanned multiple Q4 patches (some of which broke major gameplay elements) and several versions of the map itself, while I wrestled with layout, and trying to do things that were new and different, without being lame and annoying. After a lot of work, I think the major design elements (lots of sunlight and lots of verticality) are pretty strong, and that the gameplay is solid.
Most of the great textures in this map are courtesy of Evil Lair, while the cool skybox is courtesy of Hipshot I also have to say a quick thanks to Raven's Fred Hooper (hi Fred) for help with the glowy liquid. They all kick ass, just in case there was any doubt.
WEAPON/ITEM LOAD: The map has the full complement of Quake 4 weapons, along with a Red Armor, a Yellow Armor, a Megahealth, and various health and ammo scattered around.